Community
As a part of Atlanta's technology community, and specifically someone who has been involved in .NET, Office and SharePoint development for more than 15 years, I enjoying donating my time, and sometimes talent, to promote Atlanta community events. Below are some of the Atlanta events that I am passionate about.
You can also frequently find me at other local user groups - always interested in learning something new. Say hello if you see me!
---
The Microsoft 365 Patterns and Practices open source software (OSS) efforts provide guidance, scripts, tools, SDKS, and samples to the community all as part of Micrsoft's committment to encouraging platform and promoting community best practices. As often as I can I participate by contributing in areas of interest or expertise.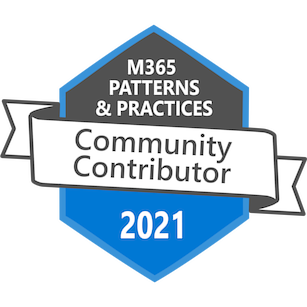 ---
Atlanta SharePoint and Office 365 user Group
The Atlanta SharePoint and Office 365 user Group is a community organization for all SharePoint users, developers, administrators and other related SharePoint professionals. Come meet and network with your fellow SharePointers on the third Monday of the month.
Visit Atl SPUG and follow @atlspug on Twitter.
---
SharePoint Saturday Atlanta
SharePoint Saturday is a free community event for administrators, end users, architects, developers, and other professionals that work with Microsoft SharePoint and Office technologies. I am a member of the planning committee and have managed speaker submissions and scheduling for the 2015 and 2016 events.
Check out SharePoint Saturday Atlanta's website and @sps_atl on Twitter.
---
Atlanta Code Camp
The Atlanta Code Camp is your opportunity to join your other Atlanta developer and design community members in a day of training.
Visit Atlanta Code Camp or follow @AtlCodeCamp on Twitter and Atlanta Code Camp on Facebook.
---
Cloud Saturday Atlanta
Cloud Saturday Atlanta is a community-focused event dedicated to educating and engaging members of the business and technology communities, by drawing on expertise from local, regional and national IT professionals, developers, architects and business decision makers who come together to share real world experiences, lessons learned, best practices and industry insights.
Visit https://atlanta.cloudsaturday.com/ or follow @CloudSatAtl on Twitter.